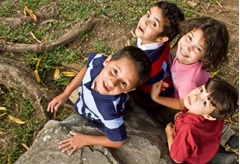 Welcome Message 
AfC Virtual School was established in January 2016 offering a range of services to our children, schools and colleagues.
Our Assistant Headteachers are here to support you and have detailed information on the progress of individual students. They attend relevant meetings within Social Care and Education and frequently visit schools to discuss pupil progress.
We are all committed to working together to provide educational stability for our cohorts as we are aware of the negative effects that school moves can have. Where school moves are unavoidable we have a Outreach worker who is here to ensure an attachment aware transition, where all professionals have the information they need to give their new student the best start.
"Education is the most powerful weapon which you can use to change the world." Nelson Mandela
We are keen to support schools and urge Designated Teachers to get in touch with us at the earliest sign of any challenges . We have a Educational Psychologist and Outreach worker who between them are able to address a wide range of barriers to learning. Through targeted support we hope to minimise exclusion and ensure that our students are on track for successful school careers.
It can be quite isolating being a Designated Teacher (DT) in a school and we offer half-termly network sessions for DTs and regular training days on a range of issues. Whether you are in borough, or far away from Richmond, Kingston or Windsor & Maidenhead, we are very keen to see you at training and you will be given a warm welcome, information and support.
We provide assistance and training for our Foster Carers too and urge you to get in touch for advice if you need any help with understanding the changes in the school system or with regard to your young person's educational progress. We have specific interventions and training for Foster Carers, for example, Letterbox parcels and the Foster Carer Conference annually in May.
We have close working relationships with Social Workers and are here to inform on any educational matters. Our Social Workers contact us as soon as a young person comes into care so that we can minimise the time out of education and ensure a high quality, well-matched school is in place. Attendance is a priority for us and we offer termly rewards to students with 100%, 95% and Improved results.
Social Workers, Designated Teachers, Foster Carers, IROs and the Virtual School collaborate to produce and share Personal Education Plans which drive forward the education of our cohort through effective, SMART, educational targets and careful tracking of the impact of Pupil Premium on outcomes.
Thank you to all those who work with us to achieve the best for our students, we truly appreciate your professional collaboration and we look forward to hearing from you or seeing you at a training event, very soon.
Suzanne Parrott
Headteacher