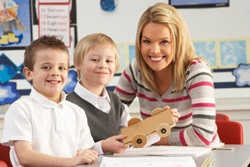 Schools & Teachers
A Valued Partnership
AfC Virtual School works with Designated Teachers and Headteachers in schools on a daily basis. As experienced school teachers ourselves we appreciate the time and dedication that schools devote to meeting the needs of our shared cohorts.
How will we know if a young person becomes looked after?
When a young person comes into care within your school you will be informed by a member of the Virtual School Team and we will partner you to ensure that this student's needs are met.
We can support you in a variety of ways:
Training – for example in Pupil Premium, ePEPs and Attachment.
Through the provision of Pupil Premium Plus funding for appropriate school interventions.
Interventions – through a variety of strategic projects offered by AfC Virtual School including the services of an Educational Psychologist, 1:1 tuition provider, Transition support and Careers Guidance.
Through advice – we are at the end of a phone or will visit for a professionals meeting whenever you need us. We would always rather hear early so that we can act promptly to ensure educational stability for our students.