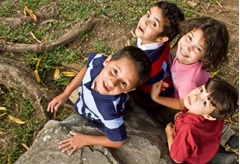 Educational Psychology
The AfC Virtual School Educational Psychologists, apply psychology and evidence-based practice, grounded in theory and research, to bring about change in the lives of children and young people (0 to 25 years) in Kingston, Richmond and Windsor & Maidenhead. They work collaboratively with others to build, embed and sustain positive change and provide every child and young person with the opportunity to succeed as effective learners, confident individuals and engaged and informed contributors to society.
The AfC Virtual School Educational Psychologist have a wide range of experience of working with children and young people and has a specialist, professional qualification in educational psychology, at doctoral level.
They are registered as practitioner psychologists with the Health and Care Profession Council (HCPC). They undertake a comprehensive continuing professional development programme and receive regular, high quality, professional supervision.