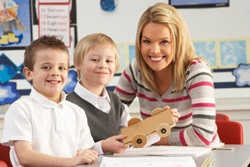 Previously Looked After Children
On the 1st September 2018, Virtual School Headteachers became responsible for supporting the education of Previously Looked After Children. AfC Virtual School 's lead for Previously Looked After Children is Emma Dyer who can be contacted on 020 8831 6037.
There is no legal requirement for Adoptive Children to have specific targets or meetings as yet however, we attach a template which you may wish to use. The Education Excellence Plan (EEP) has been created through partnership working with Adoptive Parents, Staff of Orleans Primary School and the Virtual School.
Pupil Premium for Adoptive children is delegated from the DfE to Headteachers in host schools to allocate according to identified pupil needs. As with all PPG Headteachers are responsible for evaluating the impact of spending.
This fund does not come into the Virtual School and, unlike Pupil Premium Plus for CLA, is not managed by the Virtual School Headteacher. Please find our Pupil Premium for Adoptive Children Policy attached.